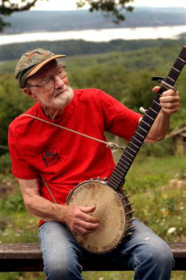 Born in 1919 to musicologist Dr. Charles Seeger and concert violinist Constance Edson Seeger, Pete developed interests in music and journalism during his teens, crafts he would intertwine throughout his career. In 1935, Dr. Seeger married Ruth Crawford, a composer, arranger, pianist, teacher and the first woman awarded a Guggenheim Fellowship for Music, and their union produced two more future folk music standard- bearers: Mike Seeger, a founding member of the New Lost City Ramblers, solo artist, and "old-time" music expert, and Peggy Seeger, one of the foremost interpreters of traditional US and UK traditional folk songs and a pioneering feminist songwriter, who has five CDs available in the Appleseed catalogue. The entire family's achievements were celebrated in March 2007 at a two-day symposium presented by the U.S. Library of Congress, "How Can I Keep from Singing: A Seeger Family Tribute."
A Harvard University dropout (he was in the same class as John F. Kennedy), Pete met, traveled and performed with the great topical folksong writer Woody Guthrie in 1940, inspiring Pete to start writing his own songs. Dedicating himself to "the music of the people," Seeger, Guthrie and other musicians formed the politically oriented Almanac Singers later that year, before Pete was drafted into the Army in 1942 and sent to the Pacific.
After the war, Seeger resumed his career as a performer and song collector, helping to found the still-existent Sing Out! magazine. In 1948, he formed The Weavers with Lee Hays, Ronnie Gilbert and Fred Hellerman, and within three years the group had sold four million records. It turned Guthrie's "This Land is Your Land" into an American standard, and its version of Leadbelly's "Goodnight, Irene" topped the charts for six months. Blacklisted during the McCarthy era for alleged Communist sympathies and for Seeger's refusal to testify before the House UnAmerican Activities Committee, the quartet disbanded in 1953 (although they reunited periodically), but Pete continued to record and to perform on the campus and international circuit, despite being informally banned from most TV and radio shows and many concert stages for the next 17 years. When the "folk boom" of the early 1960s exploded, performers such as the Kingston Trio, Peter, Paul and Mary and the Limelighters actually had hits with Seeger compositions "If I Had a Hammer" and "Where Have All the Flowers Gone." As folk turned to rock in the mid-'60s, The Byrds brought Pete's songs to a young, electrified audience with their versions of his "Turn! Turn! Turn!" and "Bells of Rhymney."
During the '60s, Pete participated in the Freedom Marches in Selma, Alabama, and Washington, DC, with Dr. Martin Luther King and helped bring an adapted version of the gospel song "We Shall Overcome" to the civil rights movement, where it became an anthem of hope and determination. Later in the decade, Pete could be found at rallies protesting the Vietnam War, and his anti-war song "Waist Deep in the Big Muddy" was initially banned from the popular "Smothers Brothers Comedy Hour" on TV, although he was eventually permitted to perform it on a later episode. A 1966 "pro-peace" Seeger song, "If You Love Your Uncle Sam (Bring Them Home)," was updated a few years ago with new lyrics (some by Appleseed's Musselman) in response to the current Iraq War and appears on Seeds: The Songs of Pete Seeger, Vol. 3 and Sowing the Seeds – The 10th Anniversary, with Pete sharing vocals with younger musical/political firebrands Steve Earle, Ani DiFranco and Billy Bragg. Bruce Springsteen added still more new lyrics and performed the song as an encore on many of his "Seeger Sessions" tour dates in 2006 and 2007.
Already honored with a Grammy Lifetime Achievement Award and a Grammy for his 1996 Pete CD in the "Best Traditional Folk Album" category, Pete's CD At 89 released by Appleseed in September 2008, garnered him a second Grammy in that category. His previous solo CD, part of Appleseed's 2-CD Pete Seeger & Friends: Seeds: The Songs of Pete Seeger, Volume 3, was nominated for the same honor in 2003. Seeger's latest CD, Live in '65, released in November 2009, is a previously unissued 2-CD set containing a complete Seeger concert recorded in Pittsburgh, PA's Carnegie Music Hall in February 1965.
A song collector and collaborator as well as a songwriter, Seeger has always drawn inspiration not only from US current events and his own creative curiosity but from other cultures as well. He adapted that singalong hit, "Wimoweh," from a South African folk song; he sings songs in Spanish ("Guantanamera") and other languages; he performs the best work of international songwriters and brings "foreign" issues and characters into our lives.
Pete and his banjo have been at the forefront of many social justice causes here and abroad. He has written songs for and participated in the labor and environmental movements and helped to found the Clearwater organization to call attention to the pollution of New York's Hudson River and other American waterways. Despite regular protestations in recent years that his concertizing days are behind him, Pete remains a committed citizen of the planet, materializing at events large and small to perform, speak, inspire and raise money and consciousness for a variety of social causes. His musical and political activism remain benchmarks for modern musicians; his repertoire of original or adapted songs, from exhortations to meditations to nonsense rhymes, remains a rich source of material for others, as Bruce Springsteen recently demonstrated. There's even a song on Steve Earle's new CD, Washington Square Serenade, called "Steve's Hammer (Pete's Song)," dedicated to Seeger.
In addition to Seeger's careers as musician and activist, he's an author as well. Pete has written close to three dozen songbooks, instructional instrumental handbooks, children's stories and other delightful works of fact and fiction. His definitive autobiography, "Where Have All the Flowers Gone" has been newly updated and reissued in November 2009.
In Fall 2007, movie director Jim Brown released "Pete Seeger: The Power of Song," a documentary film about Pete that includes appearances by Bob Dylan, Bruce Springsteen, Natalie Maines, Joan Baez, Bonnie Raitt. The film is currently playing the film festival circuit to critical raves. Joel Selvin, the venerable music columnist for the San Francisco Chronicle, wrote, "All through [Pete's] life, his music has been about the same ideas and a belief that music could make us better. When he is gone, people are going to wonder if a man like that ever did really exist. Thankfully, we have 'Power of Song' to show them."
And thankfully, we still have Pete and his wife of 60 years, Toshi, based in Beacon, NY, in the cabin they built using instructions from library books. He's chopping wood, he's recording some songs, and, like Steinbeck's Tom Joad (in Woody Guthrie's song), "Wherever little children go hungry and cry / Wherever people aren't free / Where working people are fighting for their rights," that's where Pete will be – on the front line. Rare is the person whose life and art are seamless, who has the strength of his convictions and the courage to admit it when he's wrong, who never stops trying to better the world. Pete Seeger is such a man.
To hear a 2006 interview between Pete Seeger and Amy Goodman on the syndicated "Democracy Now" radio program on the Pacifica network, please follow this link